A collection of sample cattle corral designs and plans
The sample designs shown below are provided as inspiration for your own cattle corral plans.
Please be aware that each plan has several optional builds.
For example, Hi-Hog offers several different types of gates for you to choose from including bolt-on gates, weld-on gates, bow frames with gates and U-frames with gates. Additionally, our panels and gates come in several weights, lengths and heights. And of course, you may wish to modify the design of the handling system itself. For example, you may wish a longer cattle working alley or prefer a hydraulic squeeze chute instead of a manual chute. The plans themselves can also be modified to size and locate the pens according to your individual herd management needs.
So, while each sample provides a possible solution we recommend you contact Hi-Hog to assist you in developing a corral plan that works specifically for you. This is a FREE service.
If you're calling from within mainland North America you can reach Hi-Hog toll free at 1-800-661-7002 (Monday to Friday 8:00 am to 4:30 pm MST).
NOTE: To see the drawing details we recommend viewing the samples drawings on a large screen. The PDF views tend to be sharper and easier to print.
Sample Corral Design 01
Open PDF of Sample Corral Design 01
Sample Corral Design 02
Open PDF of Sample Corral Design 02
Sample Corral Design 03
Open PDF of Sample Corral Design 03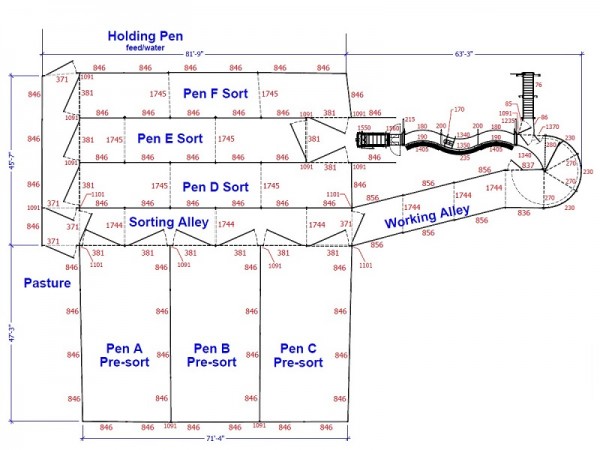 Sample Corral Design 04
Open PDF of Sample Corral Design 04
Sample Corral Design 05
Open PDF of Sample Corral Design 05
Sample Corral Design 06
Open PDF of Sample Corral Design 06
Sample Corral Design 07
Open PDF of Sample Corral Design 07
Sample Corral Design 08
Open PDF of Sample Corral Design 08
Sample Corral Design 09
Open PDF of Sample Corral Design 09
Sample Corral Design 10
Open PDF of Sample Corral Design 10
Sample Corral Design 11
Open PDF of Sample Corral Design 11
Sample Corral Design 12
Open PDF of Sample Corral Design 12
Sample Corral Design 13
Open PDF of Sample Corral Design 13
Sample Corral Design 14
Hi-Hog Sample Corral Design 14
You may also be interested in these Hi-Hog resources:
For further assistance contact Hi-Hog