Item Number: Hydraulic Cattle Chutes 1556, 1566
Hi-Hog's hydraulic cattle squeeze chute reduces livestock stress and increases efficient cattle handling, all while keeping both stock and operator safe.

At 2,100 pounds, you will be hard pressed to find a chute offering better value per pound.
Benefit from a long list of low stress cattle handling features
Both the head gate stanchion and tail gate open to the full 31" width of the chute for unrestricted livestock flow
The head gate stanchions are parallel so your cattle are not at risk of choking
The head gate is mounted with impact absorbing springs to minimize livestock bruising
The parallel sides are gently sloped to naturally support your livestock without affecting the stability of their footing
When the sides of the chute are squeezed, they move together and forward in a smooth parallel motion providing even pressure from the floor to the shoulder. The parallel motion keep your livestock centered, stable, and supported
The interior of the bottom of the chute is enclosed with sheet metal. This protects your livestock from foot traps and sharp edges while also making it more difficult for your cattle to climb the sides
All sheeted components are caulked for quiet, low stress operation
The floor of Hi-Hog's chute is made with heavy checker plate with large integrated 1.25" x 1.25" square traction bars to provide your cattle with confident and secure footing
Both of the hydraulic pump options come with long hydraulic lines to allow you freedom to locate the pump away from the chute (where the noise and vibration of the pump will have a minimum impact on the stress levels of your livestock).

Outstanding Animal Access and Flow
Ask an expert about Hi-Hog's hydraulic cattle squeeze chute
All chutes come standard with both a left and right side-exit
Each side of the chute includes 7 access panels for unmatched animal access:

1 fully removeable shoulder-access panel
4 body-access panels
2 foot-access panels

Both the foot and body access panels open and lay flat against the chute to maximize operator access.
The chute comes with an adjustable neck extender which can be adjusted to provide 4 1/4", 5 3/4", or 7 1/4" openings between the head gate and the neck extender bars
For greater head control, you can use the included ¼" x 90" chain and pigtail latches.
If you don't wish to use the neck extender you can quickly and easily remove it
Ask an expert about Hi-Hog's hydraulic cattle squeeze chute
Easy Operation
The chute can be set up for either left or right side operation (the factory settings are for left side operation)
Both side exits can be easily opened and closed from either the left or right side of the chute
All side access panels come with gravity slam latches that are fast and easy to operate with one hand, even with mitts on
For your safety
A guard rail is included on the side exits to protect the body-access panel latches from livestock contact
The foot-access panel latches include a slide lock for additional security when the panels are raised
The side exit gates come with both slam latches and slide locks
Alignment plates are included to restrict animals from distorting the side exit panels out of latch alignment.
The rear two body-access panels include slots for a back-up bar.
Ask an expert about Hi-Hog's hydraulic cattle squeeze chute
Hydraulic Controls
The hydraulic controls are mounted on a pivot arm for squeeze control where you want it (340 degree range)
The squeeze chute comes with four hydraulic controls;
head gate
squeeze sides
tail gate
spare valve (use this to add hydraulic functionality where you wish)
Each hydraulic circuit includes hydraulic line locks
Pressures are set at the factory at 1200 psi
Choose either an electric hydraulic pump or gas hydraulic pump
Quality Design, Construction and Materials
The bottom track on the head gate and tailgate is designed for easy clean-out
Each chute includes 26 grease fittings to ensure smooth operation year after year
All primary hinge points are pre-greased with premium arctic grade grease for extreme weather use.
Includes premium quality, 3/8" diameter, double braided, all weather, side-exit control ropes
60,000 psi high tensile North American heavy wall steel tubing
Durable polyester powder coat paint finish
Ask an expert about Hi-Hog's hydraulic cattle squeeze chute
Hydraulic Cattle Squeeze Chute Options
Hydraulic Pump Options:
Hydraulic Cattle Squeeze Chute with Electric Power Pack, Item No 1556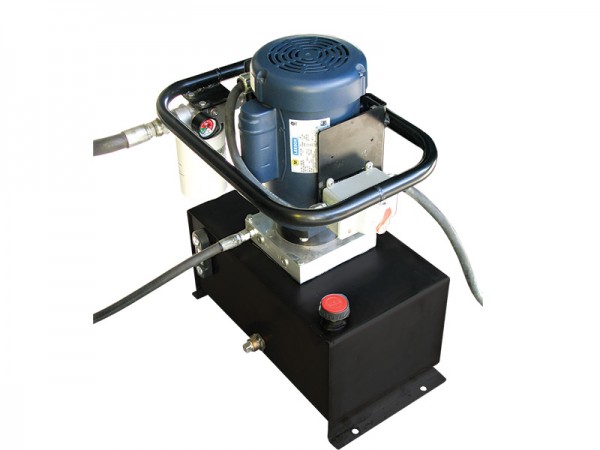 Hi-Hog's 2 horsepower electric hydraulic pump is set at the factory to pump 1.5 gallons/minute at 1000 psi. The electric pump can run on either 110 V or, for best performance, 220 V.

Hydraulic Cattle Squeeze Chute with Gas Power Pack, Item No 1566
Hi-Hog's 5.5 horsepower gas hydraulic pump offers 15.2 gallons/minute at low pressure and 3.3 gallons/minute at high pressure.
The power pack includes a by-pass valve which makes it:
easier to pull start the engine
faster to warm up to full operating temperature
faster to warm the hydraulic oil in the tank.
If you have a pull start pump without a by-pass valve, you need to turn the engine over as well as the hydraulic pump and forcing the oil through the full length of the pressure and return lines. That is much harder
Ask an expert about Hi-Hog's hydraulic cattle squeeze chute
Hydraulic Squeeze Chute Options

| | | |
| --- | --- | --- |
| Item # | Description | Weight (lbs) |
| 1556 | Hydraulic Chute with electric powered hydraulic pump | 2,331 |
| 1566 | Hydraulic Chute with gas powered hydraulic pump | 2,351 |
Specifications
Outside Length: 111 9/16"
Inside Length: 99"
Outside Height: 96 1/4"
Inside Height Clearance: 72 1/2"
Base Width: 40"
Inside Width - squeeze at full width: 33"
Inside Width - squeeze at narrow width: 12 1/2"

Customer Reviews
"This chute is quiet, heavy duty and built to last. The control arm allows us to run the hydraulic chute from numerous positions, while the cattle move through with ease. The chute design allows great accessibility for preg-testing, semen testing, and positioning calves to nurse. This has been a great addition to our cattle working operation."
Noble Ranch - Bonanza, Oregon
The chute has cut our work time in half. we no longer need a hot shot, the cattle load themselves when it opens. Worst case, we have to use a poker stick. Don can work the cattle by himself if necessary, but his wife is willing to help now.

Santos Angus Ranch, Glide Oregon
Ask an expert about Hi-Hog's hydraulic cattle squeeze chute
Hi-Hog Hydraulic Cattle Squeeze Chute - Operators Manual
Canadian Funding Opportunities
Funding may be available in some Canadian Provinces through the 'Canadian Agricultural Partnership′ program to help offset some of the costs on the purchase of a squeeze complete with neck extender. The funding programs vary from province to province. Canadian Agricultural Partnership Links